This Mojito Natural Soda is a refreshing blend of mint and lime, as you may have already guessed. There is no alcohol in it, but if you add rum, you have a tasty mojito-like drink with probiotics and no sugar! See my post on How to Brew Water Kefir (plus the benefits of drinking it) if you have never made it yourself.
Mojito Natural Soda contains:
Probiotics (beneficial bacteria)
Beneficial enzymes
Beneficial acids
B vitamins
Vitamin K
Folate
Vitamin C, flavonoids (antioxidants), citric acid (antibacterial), and fiber from the lime juice.
Small amounts of potassium, magnesium, calcium, phosphorus, vitamin C, iron and vitamin A from the mint.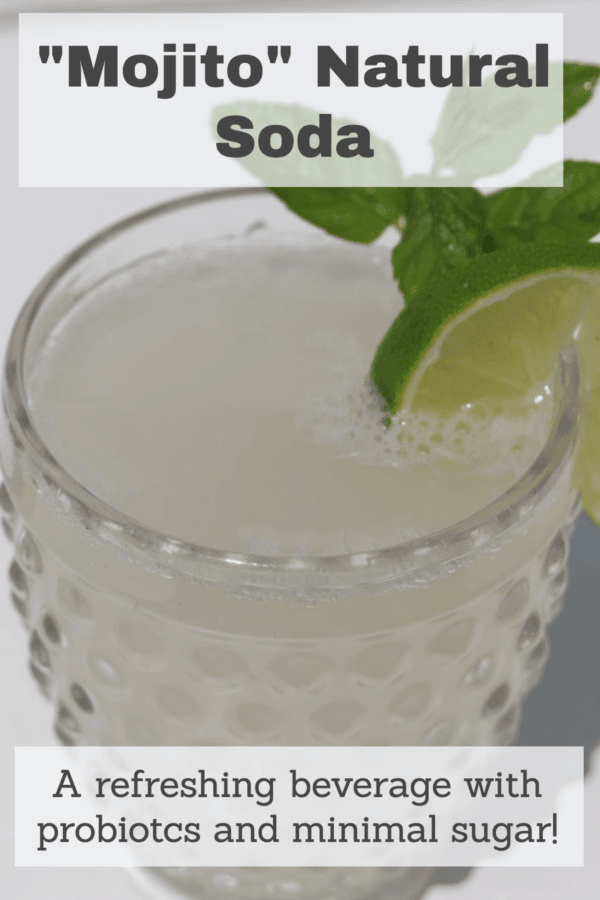 To make Mojito Natural Soda you will need:
the juice of one to two limes
one to two teaspoons Sucanat or organic unrefined cane sugar (this will be fermented out by the kefir grains. It is needed to make the soda carbonate.)
Water Kefir (about a quart) I got my grains here. Here is a post on how to brew water kefir.
1/2 cup fresh mint leaves
lime zest (optional)
Glass flip-top bottle or regular glass bottle
Directions for Mojito Natural Soda:
Add all ingredients to a flip-top bottle.
Allow to sit on your counter for at least 2 days and up to 7.
Release the gas from time to time so that you don't have an explosion when you finally open up your soda. When the soda has reached your desired taste, move it to the fridge to slow fermentation and enjoy!
What is your favorite water kefir flavor?