This time of year, the end of winter, your face might start to feel a little dry and crackly, depending upon where you live. An easy fix for this is a face serum. Face serums are some of the easiest beauty products to make at home. Also, you can customize the beauty oils and add your favorite essential oils. When you make your own, you control the quality of the beauty oil as well as the quality of the essential oils. The bottom line is that you end up with a superior product, yet at a significantly reduced cost. A win-win in my book!
You should always choose the organic version of an oil when available. Also be sure to choose the least processed version, such as expeller-pressed. Here is an overview of my favorite carrier oils for face serums divided by skin type. This is not an exhaustive list.
My favorite face serum oils:
For Dry and Mature skin:
For Normal and Combination Skin:
For Oily/Acne Prone Skin:
You will notice that many of the oils overlap. This should give you peace of mind enough to know not to agonize over your choice of oils. My skin changes with the seasons, so I have made multiple face serums with different carrier oil combinations. For my winter serum, I use Rose Hip Oil, Argan Oil, and Evening Primrose. I use only Rose Hip oil as my carrier in the summer. It is lighter than the Argan and Evening Primrose.
After you choose your oil or combination of carrier oils for the base of your serum, you will want to choose your essential oil or essential oil combination. I prefer to either use a single oil such as Frankincense, or to use a synergy blend that has been created by a certified aromatherapist. Essential oils react to each other, sometimes positively, sometimes negatively. For this reason, I like to leave it up to the experts who know and understand those reactions to create a blend.
The best Essential Oils for Your skin:
I have two favorite blends for my skin. The first is Anti-Age by Plant Therapy. It is an amazing smelling blend of Palmarosa, Rosalina, Copaiba Balsam, Frankincense Serrata, Frankincense Carteri, Sandalwood, Neroli, and Rose Absolute to help reduce "fine lines, patchy pigmentation and loss of elasticity". Plant Therapy has world renowned aromatherapist Robert Tisserand as a consultant.
My other favorite essential oil company is Rocky Mountain Oils. Their Soft Skin blend contains Lavender, Frankincense Serrata, Lemon, Petitgrain, Coriander, Turmeric, and Rose Absolute. It smells and feels divine! Rocky Mountain Oils also has a blend called Skin Care. It contains Cucumber, Lavender, Frankincense, Carrot Seed, Neroli, Roman Chamomile, & Rose and is said to "rejuvenate and tone mature skin, prevent and reduce the appearance of scars, and sooth and comfort dry, irritated, and blemished skin." It is next on my list to try.
Whether you would like to go with a single oil, a blend, or use a tried and true combination, here is a list below of which oils are best for each skin type. This is also not a comprehensive list.
Essential Oils to normalize oil production: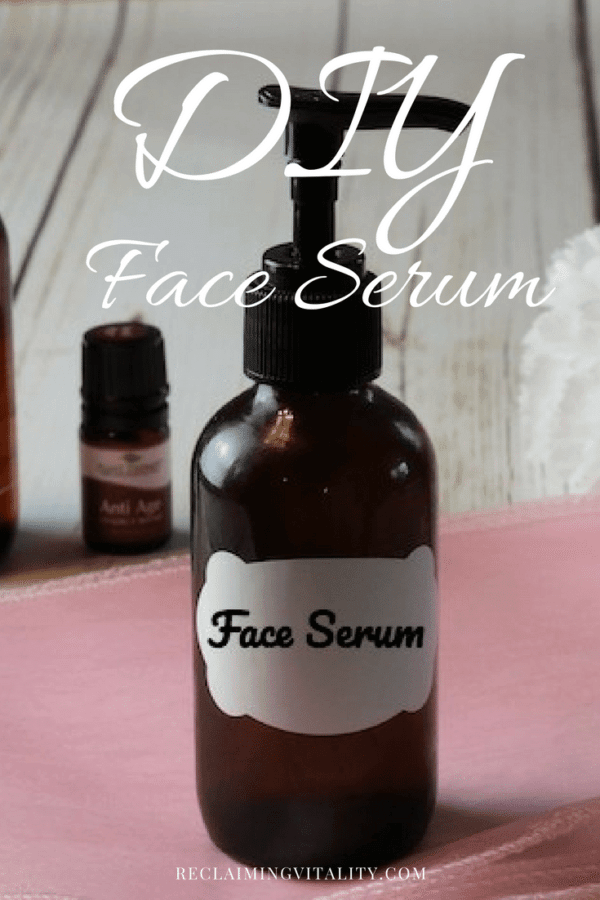 Essential oils for moisture and elasticity:
Essential oils for acne/blemishes:
Both Tea Tree oil and Lavender can be applied directly to the skin without a carrier oil. If you have sensitive skin, however, you can make an acne spot treatment roller by following my tutorial on essential oil roll-ons. I recommend coconut oil for the carrier oil for this because it is anti-microbial. You do not need to follow the typical dilution rates for a spot treatment.
Essential oils for red spots/scarring:
How to Make your Facial Serum:
How to use your face serum: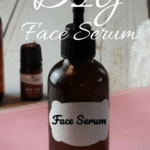 DIY Customized Face Serum
Make a customized face serum that is tailored to your skin in just minutes.
Ingredients
3

tablespoons

of carrier oil

rose hip, grapeseed, argan, jojoba, etc.

12-18

drops of an essential oil blend for skin

Glass bottle or jar
Instructions
Pour 3 tablespoons of carrier oil (this can be a combination or a solo oil)into an airtight glass bottle or jar. I use rose hip alone in the summer months because it is a "dry" oil. For the fall and  spring, I use a combination of rose hip and grapeseed. For the winter months, I up the hydration by adding argan oil to the combo.

Add 12-18 drops of essential oils.I alternate between Anti-Age by Plant Therapy and Soft Skin by Rocky Mountain Oils (I use a one ounce glass pump bottle.)
HOW TO USE YOUR FACE SERUM
Apply your serum to a clean face. It can be dry or slightly damp to lock in moisture.

Follow it with your moisturizer. I only use my serum at night because it gets my hairline oily. In the mornings, I use a DIY rose and hyaluronic acid face serum.