These homemade blueberry fruit snacks just take a few minutes to prepare. These treats skip the food coloring, preservative, and other unwanted ingredients in the store-bought version. They aren't just for kids either. Since treat contains grass-fed gelatin, real juice, and raw honey, you can feel good about enjoying them. If you have been following my blog, you probably know that I am a big fan of collagen and gelatin. Gelatin is featured in my homemade pudding recipe, collagen in my breakfast beverage, and both the "old fashioned" way in homemade bone broth. If you don't know about the incredible benefits of consuming grass-fed gelatin and collagen, read on!
Consuming Grass-Fed Gelatin and collagen:
Protects your joints: Have knee pain? Tennis elbow? Ankles that pop? Start adding grass-fed gelatin and collagen to your diet. Gelatin also helps with arthritis pain.
Improves digestion and seals the gut lining: Gelatin can prevent and help heal "leaky gut". It also can reduce or eliminate bloating, acid reflux, nutrient deficiencies, and anemia. Grass-fed gelatin can reduce constipation and water retention as well.
Can help you get a restful night's sleep: When taken at bedtime, gelatin can improve the quality of your sleep, shorten the time it takes you to fall asleep, and help you feel more rested throughout the day.
Improve the appearance and health of your skin: As we age, we start to produce less collagen. This causes wrinkles and sagging skin. Taking gelatin and/or collagen can prevent and even reverse skin damage with cellular regeneration.
Helps maintain strong bones: Gelatin is full of the nutrients necessary to maintain bone health.
Can make you feel fuller longer: This can translate to less snacking which is tough on the digestion and impedes weight loss.
Is good for your heart: Our society loves to eat muscle meat! We generally go for the chicken breasts, filet mignon, and pork tenderloins. By doing this, we miss out on many beneficial amino acids that are contained in the cartilage, bones, and organs of the animals. While eating tip to tail is ideal, we can use grass-fed gelatin and collagen to fill in those gaps when we haven't been doing so.
Can boost your mood and brain power: Because gelatin contains glycine, an "inhibitory neurotransmitter", it lowers stress hormones while increasing hormones like GABA which make us happy.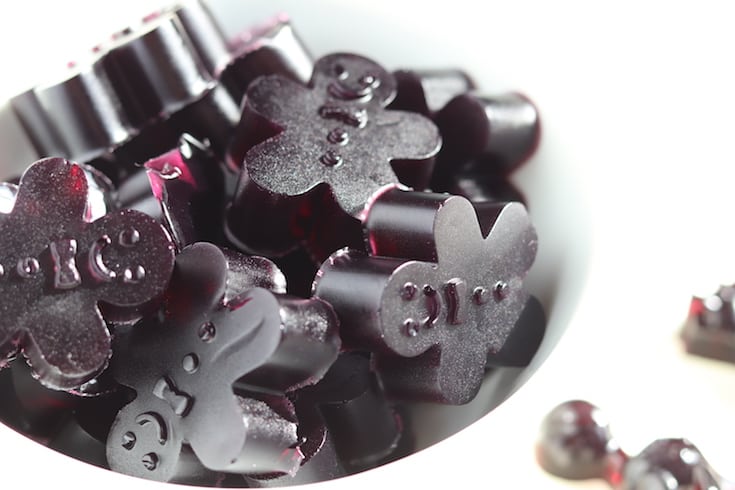 To make Homemade Blueberry Fruit Snacks, you will need:
2 cups organic blueberry juice (I use Knudsen's "Just Blueberry")
6 tablespoons grass-fed gelatin
Optional: 1tablespoon raw honey (or maple syrup). It may seem weird to add sweetener to juice, but there is quite a bit of gelatin here and it helps bring out the flavor of the juice.
Optional: 1/2-1 teaspoon blueberry extract extract. This adds a lot of flavor without added sweetener. The Olive Nation brand has no propylene glycol.
Directions for homemade blueberry-pomegranate Fruit Snacks:
Add the juice to a medium saucepan.
Sprinkle the gelatin over the top and allow to sit for a few minutes.
Turn the heat on medium-low and whisk the gelatin into the juice.
Once the gelatin is completely dissolved, remove from heat.
If using, add your fruit extract and honey/maple syrup and mix well. (If using raw honey, let the mixture cool until you can touch it without being burned.)
Pour your mixture into silicone molds. I like to first pour my mixture into a pyrex liquid measuring cup because it has a nice lip on it for pouring, but you could also ladle your mixture into the molds.
Allow the molds to set up in the fridge for at least an hour.
Remove from the molds and store in an airtight container in the fridge for up to a week (if they last that long!)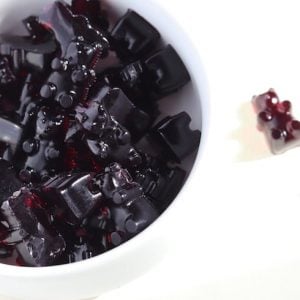 Homemade Blueberry Fruit Snacks
A nutrient-dense treat with grass-fed gelatin, real juice, and raw honey.
Ingredients
2

cups

of blueberry juice

6

tablespoons

grass-fed gelatin

Optional: 1-2 tablespoons raw honey

or maple syrup

Optional: 1/2-1 teaspoon blueberry extract extract
Instructions
Add the juice to a medium saucepan.

Sprinkle the gelatin over the top and allow to sit for a few minutes.

Turn the heat on medium-low and whisk the gelatin into the juice.

Once the gelatin is completely dissolved, remove from heat.

If using, add your fruit extract and honey/maple syrup and mix well.

Pour your mixture into silicone molds. I like to first pour my mixture into a pyrex liquid measuring cup because it has a nice lip on it for pouring, but you could also ladle your mixture into the molds.

Allow the molds to set up in the fridge for at least an hour.

Remove from the molds and store in an airtight container in the fridge for up to a week (if they last that long!)