If you're not sure why you need a microbiome-safe hand sanitizer, go here to read all about your microbiome and why you need to protect it.
What's in Hand Sanitizer?
Most store-bought antibacterial hand sanitizers, besides being made of dangerous petroleum-based chemicals, contain antibiotics such as Triclosan. Triclosan can kill off good and neutral bacteria, leaving antibiotic resistant bad bacteria to proliferate. Not only that, but there are hormonal implications coming to light with Triclosan as well! Great. Now what do I do if I am out at some germ-ridden place such as a porta-potty or hospital? Make your own hand sanitizer with essential oils and and bring it with you!
Here is some good news. (Finally!) Many essential oils are powerfully anti-microbial! Remember quality matters when it comes to essential oils. My trusted brands are Rocky Mountain Oils and Plant Therapy. It is so simple to make your own hand sanitizer with essential oils and and bring it with you wherever you go! I used a four ounce glass bottle for my regular purse and small glass perfume bottles for when I have a small purse.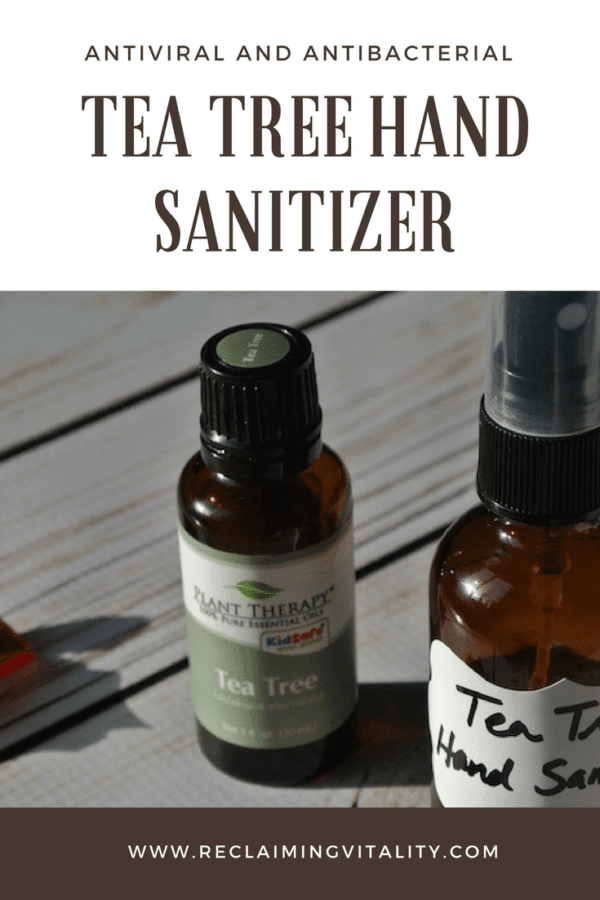 Antibacterial Essential Oils:
Lavender
Peppermint
Oregano
Eucalyptus
Bergamot
Lemongrass
Clove
Cinnamon
Thyme
Basil and Rosemary (use together).
Antiviral essential oils:
Eucalyptus
Lemon
Pine
Peppermint
Cinnamon
Lavender
Clove
Thyme
Oregano
Homemade Hand Sanitizer:
1 Tablespoon Aloe Vera gel
3 Tablespoons Witch Hazel (antimicrobial and antiviral)
5-7 drops antibacterial and antiviral essential oil(s) (see list above (I used 4 drops Tea Tree and 3 drops Lavender)
Optional: Vitamin E capsule to preserve it longer
Glass spray bottle (I used a 4 ounce glass bottle and the little perfume bottles shown here.)
Place all ingredients into a glass spray bottle. This recipe makes 4 ounces. Shake to mix. Spray on your hands as needed.
Note: The small glass perfume bottles hold a scant tablespoon, so either cut this recipe in fourths or make some for a larger bottle and share it with your smaller bottle(s). You will need a small funnel if you get the small bottles. I thought they were so fun and convenient for a small purse. Also, I wanted some for making homemade perfume with my essential oils. The bottles come in groups of 5, so I have leftover to put my homemade perfume in.
Have you ever made homemade hand sanitizer? What did you use? Did you like it? I'd love to hear from you!