These sourdough waffles/pancakes have been a favorite in our house for the past few years. They mix up almost as fast as one of those pancake mixes in a box do, taste way better, and are so much better for you! They have healthy fats from the butter and egg yolks, as well as protein from the egg whites (a small amount from the wheat as well.) The protein and fats help slow the absorption of whatever sweetness you top your sourdough pancakes/waffles with.
I serve the waffles with homemade cultured maple butter or cultured whip cream and berries. The pancakes we top with cultured butter and jam (sometimes homemade, sometimes not). This recipe was adapted from a recipe on Yumarama.com. I don't see it there anymore, but the site looks amazing for anyone who wants to really get into bread making! Let me show you easy this recipe is.
To make sourdough pancakes/waffles, you will need:
1.5 cups organic flour (I use a blend of whole wheat and all-purpose)
1 tablespoon baking powder
1/2 teaspoon salt
1 cup sourdough starter (discard) I use a blend of whole wheat and all-purpose.
4 pastured eggs
1 cup whole milk (non-homogenized is best)
1/4 cup butter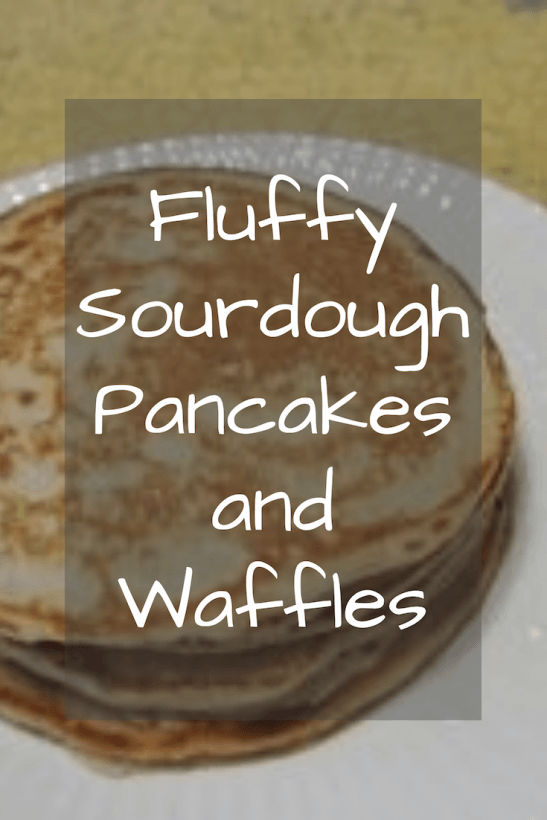 Directions:
Combine the dry ingredients in a large bowl and whisk to combine.
In a medium bowl, crack the eggs and mix.
Next add the sourdough starter. Whisk until fully combined.
Add milk and mix well.
Add the wet ingredients to the dry ingredients. Whisk until just combined. Do not over-mix!
Let this mixture sit for 10 minutes. While it is resting, melt the butter.
After the 10 minutes, add the melted butter to the batter.
The batter should have just a "trace" left when you lift the spoon. If it is too thick, add a bit more milk until it is the right consistency.
Notes: For pancakes, I use my second largest burner on 4 (just below medium). For waffles, I have the iron set to medium and set the timer for 5 minutes. Follow the direction on your particular waffle iron, however, as they vary considerably. If you like your waffles even fluffier, you can separate the egg whites out, mix them with a hand mixer until soft peaks form, and add them AFTER the butter. I don't do this though since these waffles are nice and fluffy as is.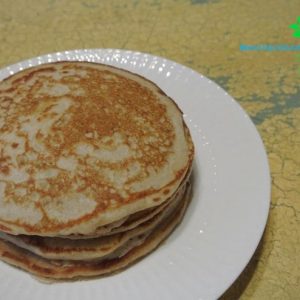 Fluffy Sourdough Pancakes/Waffles (discard starter)
Delicious and simple to make, fluffy sourdough pancakes and waffles using discard starter.
Ingredients
1.5

cups

of organic

unbleached flour (I use a mix of all-purpose and whole wheat) Don't use enriched flour!

1

tablespoon

aluminum-free baking powder

1/2

teaspoon

sea salt

3

pastured eggs

1

cup

sourdough starter

1

cup

whole milk

non-homogenized (or milk substitute)

4

tablespoons

unsalted grass-fed butter
Instructions
In a large bowl, combine the dry ingredients.

Next, crack the eggs into a medium-sized bowl and beat lightly.

Add the sourdough starter and mix well.

Next, add the milk.

Add the wet ingredients to the dry ingredients. Mix, but do NOT over-mix! A few lumps are o.k.

Set the timer for 10 minutes. Melt the butter while you are waiting.

When the timer goes off, add the melted butter.

Waffles: Follow the manufacturers instructions of your waffle maker. For my ceramic waffle maker, I set the timer for 5 minutes and have my waffle iron set to medium. Makes 5.

Pancakes: Put only a small amount of butter in the pan. I use my non-power burner at a 4, but your stove may be different. Makes about 15-20 depending on the size. (We like small pancakes in our house.)
Do you make homemade sourdough waffles and pancakes at home? Have you ever tried sourdough? Let me know what you think of the recipe if you try it! I would love to hear from you!