We may earn money or products from the companies mentioned in this post.
These Dutch Oven Baked Beans with Maple and Bacon are a great side to make if you are grilling this Father's day. They go great with my Sourdough Cornbread, Probiotic Potato Salad, and Carrot and Cabbage Coleslaw! You could even start off with some Homemade Ranch Dip and Veggies. Crack a cold one or pour yourself a kombucha spritzer and you're ready! These baked beans are so delicious, are easy to make and you can make them ahead of time leaving you free to socialize with your family!
Dutch Oven Baked Beans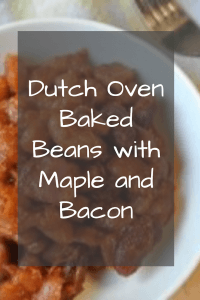 2 cups of assorted dry beans (I like 1/2 cup kidney, 1/2 cup cannelini, and 1 cup small white beans)
2 cups chicken or vegetable broth
4 to 8 slices pastured bacon
1/2 onion, chopped
2 cloves minced garlic
1/2 cup maple syrup
1 cup ketchup
1 tablespoons mustard (yellow or brown)
4 tablespoons apple cider vinegar
sea salt to taste
Directions:
First, soak your beans overnight, changing the water once or twice.
Next, cook your bacon until almost finished. (It will cook the rest of the way in the beans.) Save about 1- 2 tablespoons of the bacon grease.
Next, drain your beans. Add your broth and your beans, bring to a boil, reduce heat to medium low and cook until tender. Stir gently. Most of the liquid should have boiled out.
Preheat your oven to 350 degrees.
In your dutch oven, heat the bacon grease and then add the onions on medium low. Cook until soft, about 7-10 minutes. Add the garlic and cook until fragrant, about 30 seconds to a minute.
Add the beans, ketchup, maple syrup, mustard powder, and vinegar and stir to combine.
Bake in the oven for 45 minutes to one hour. The mixture should bubbly and much thicker than when you started.
Add salt to taste if needed.
Dutch Oven Baked Beans with Maple and Bacon

2017-05-23 16:31:04

Delicious dutch oven baked beans with maple and bacon.

Ingredients

2 cups of assorted dry beans (I like 1/2 cup kidney, 1/2 cup cannelini, and 1 cup small white beans)
2 cups chicken or vegetable broth
8 slices pastured bacon
1/2 onion, chopped
2 cloves minced garlic
1/2 cup maple syrup
1 cup ketchup
1 tablespoons mustard powder
4 tablespoons apple cider vinegar

Instructions

First, soak your beans overnight, changing the water once or twice.
Next, cook your bacon until almost finished. (It will cook the rest of the way in the beans.) Save about 1- 2 tablespoons of the bacon grease.
Next, drain your beans. Add the broth to your beans, bring to a boil, reduce heat to medium low and cook until tender. About 1 hour. Stir gently occasionally. Most of the liquid should have boiled out.
Preheat your oven to 350 degrees.
In your dutch oven, heat the bacon grease and then add the onions on medium low. Cook until soft, about 7-10 minutes. Add the garlic and cook until fragrant, about 30 seconds.
Add the beans, ketchup, maple syrup, mustard, and vinegar and stir to combine.
Bake in the oven for 45 minutes to one hour.
Add salt to taste if needed.

Adapted from Dutch oven baked beans with maple and bacon

Adapted from Dutch oven baked beans with maple and bacon

Reclaiming Vitality https://reclaimingvitality.com/