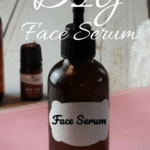 DIY Customized Face Serum
Make a customized face serum that is tailored to your skin in just minutes.
3

tablespoons

of carrier oil

rose hip, grapeseed, argan, jojoba, etc.

12-18

drops of an essential oil blend for skin

Glass bottle or jar
Pour 3 tablespoons of carrier oil (this can be a combination or a solo oil)into an airtight glass bottle or jar. I use rose hip alone in the summer months because it is a "dry" oil. For the fall and  spring, I use a combination of rose hip and grapeseed. For the winter months, I up the hydration by adding argan oil to the combo.

Add 12-18 drops of essential oils.I alternate between Anti-Age by Plant Therapy and Soft Skin by Rocky Mountain Oils (I use a one ounce glass pump bottle.)
HOW TO USE YOUR FACE SERUM
Apply your serum to a clean face. It can be dry or slightly damp to lock in moisture.

Follow it with your moisturizer. I only use my serum at night because it gets my hairline oily. In the mornings, I use a DIY rose and hyaluronic acid face serum.